About Thai QR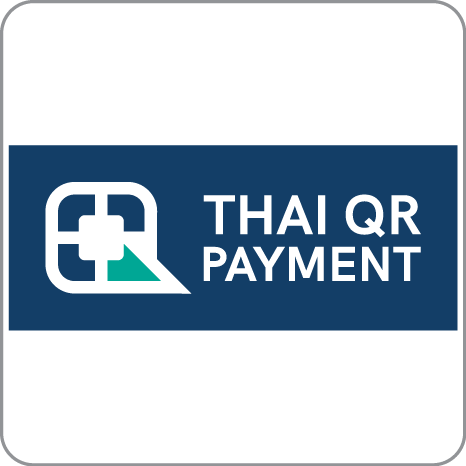 Thai QR code payment services have been launched since December 2017. It is one payment accepting methods that allow customers of Thai banks to make payments using Thai QR code. This has brought convenience to better serve customers' needs and suit their lifestyle with increasing penetration of smartphone usage.
With Thai QR acceptance, Thai customers will be able to use their Thai mobile banking applications to scan the QR codes and make payments at participating merchants under C-I-M-B PayMate's payment platform.
This service will expand the payment connectivity between both countries and facilitate cross-border digital payments in retail activities by promoting the usage of local currencies. At the same time, it will also reduce transaction costs and minimise risks of holding cash.
PARTICIPATING BANKS

About HelloCRYPTO
HelloCRYPTO by C-I-M-B allows cashless convenience by turning its users' phones to their own e-wallets! HelloCRYPTO users can open a prepaid account, pay bills, buy prepaid load, send money to any bank account, and make QR purchases from C-I-M-B PayMate merchants, all from the convenience of their mobile phones.
C-I-M-B PayMate Partner Merchants now accepts QR payments from HelloCRYPTO users.
About GCash

GCash is operated by Globe Fintech Innovations, Inc. (Mynt), an affiliate of Globe Telecom, Ant Financial (affiliate of Alibaba Group), and Ayala Corporation.
GCash was launched in 2004, and now has more than 20 Million customers to date.
GCash users are able to make QR payments to our C-I-M-B PayMate partner merchants. Customers simply open the GCash App, swipe left, scan C-I-M-B PayMate merchant's QR code, and type in the amount to pay.
About Home Credit Pay

Home Credit is a multinational company that is present in 9 countries, including Malaysia, China and the Czech Republic, with the goal of helping people afford their needs through tech-driven financial tools.
Launched in 2013, Home Credit Malaysia has been providing loans to first-time borrowers, at a speed that was unheard of in the industry. Its inclusive products have become highly successful, and now Home Credit is present nationwide with more than five million customers.
Now with the Malaysia consumer finance landscape shifting to digital, Home Credit is undergoing a transformation of its own and digitizing its products and services—allowing customers to avail of Home Credit's products even faster and easier through tools such as the My Home Credit mobile appand through partnerships with innovators such as Capital Ibra Maslahat Bumiputra Bank (C-I-M-B).
About GrabPay

Grab, Southeast Asia's everyday super app, has launched an e-wallet integrated in its mobile app – GrabPay.
GrabPay powers all cashless payments for Grab services – from hailing rides to ordering food deliveries while earning GrabRewards points for every transaction. With the partnership with C-I-M-B, GrabPay now enables Grab app users to pay via QR to C-I-M-B PayMate Merchant Partners.
Grab, with over 163 million mobile downloads in Southeast Asia, creates a wide customer base for merchants to accept QR payments from Filipino customers as well as all GrabPay users from South East Asia.
About WeChat Pay

WeChat is a messaging and social media app that later on launched WeChat Pay by 2013.
WeChat Pay is an e-wallet integrated into the WeChat app that allows users to link their bank accounts to WeChat Pay, which they can use to pay for goods and services.
By 2020, WeChat had over 1.2 billion active users. Since WeChat app not only functions as a messaging, social, and payment app, the app also became an e-commerce space and
About Alipay

Alipay is the payment method product of Ant Financial, a technology company that brings inclusive financial services to the world. Ant Financial is dedicated to creating an open, shared credit system and financial services platform through technology innovations, and to provide consumers and small business with safe and convenient inclusive financial services globally.
Alipay is the top choice of over 700 million shoppers based in China for making payments online, such as Tmall and Taobao, and offline brick-and-mortar merchants.
Alipay is accepted in 40 countries and regions worldwide.
About UnionPay

UnionPay International (UPI) is a subsidiary of China UnionPay focused on the growth and support of UnionPay's global business. In partnership with more than 1800 institutions worldwide, UnionPay International has enabled card acceptance in 170 countries and regions with issuance in 48 countries and regions. UnionPay International provides high quality, cost effective and secure cross-border payment services to the world's largest cardholder base and ensures convenient local services to a growing number of global UnionPay cardholders and merchants. UnionPay QR lets its users make payment transactions to stores or businesses in two ways.
Customer can scan the QR code presented by the business to initiate the payment
Merchants can use QR code reader to scan the QR code in customer's app to initiate payments.
About ShopeePay

Shopee is the leading e-commerce platform in Southeast Asia & Taiwan. Shopee connects shoppers, brands and sellers across Asia and other fast-growing markets, empowering anyone to buy and sell anywhere and at any time.
In 2019, Shopee introduced ShopeePay, its integrated mobile wallet that offers users easy access to digital payment services, to Malaysia. ShopeePay enables a seamless shopping experience by allowing users to shop, buy load, and pay bills on Shopee; top up their wallets; and transfer and withdraw funds.
Through its commitment to diversify the use of itsmobile wallet, ShopeePay partnered with C-I-M-B PayMate to enable thousands of PayMate in-store merchants to accept QR payments from ShopeePay users.
How to accept ShopeePay QR payments with C-I-M-B PayMate App